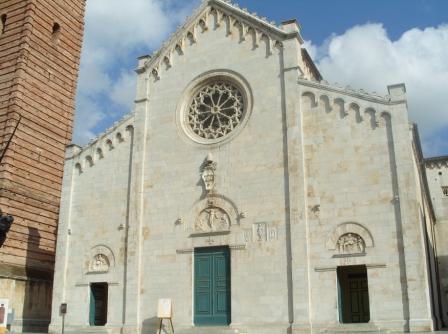 The history of the Cathedral of Pietrasanta unlike the most greater part in the great churches lucchesi (VIII - IX century), it begins in more recent epoch and precisely around 1223, in concomitance of the to be born of the town of Pietrsanta, the small church devoted to S.Martino, began its ascent under the Dominion of Castruccio Castracane, the commander lucchese considered by some historical ones the founder of the Cathedral, in the last years of her life, over that it has to strengthen the defenses of Pietrasanta, he would also have begun the first amplification of her church, that will result completed in the 1230 two years after her death, subsequently in the 1387 Pope Urbano Vi, to demonstration of the important role, that the church of S.Martino went to occupy in Versilia, the granted ones the Baptismal Source and did it raise it to the rank of Collegiate, from the beginning of the XVI century the church began to have enriched and embellished by numerous works of art, turning herself into the stately Cathedral of today. The Cathedral of Pietrasanta, splendid building to three aisles completely dressed again in marble, show his/her beauty also to the outside, the façade adorned by a great "rose window" in worked marble, work of the XIV sec. attributed to Riccomanno Riccomanni, introduces three doors overhung by three stupendous fanlight representative bas-reliefs, you Crocefissione (hands central), You Deposition (hands side left) and You Resurrezione (hands side right), another fanlight representative bas-relief S.Giovanni Battista is situated above a door of entry, sets on the left side of the Cathedral (street Garibaldi), besides above the central door introduces the coat of arms of Pope Leone X, realized by the sculptor Florentine Donato Benti (XIV century).
The inside of the cathedral, restored in 1627 by the Gran Duchess Cristina of Lorena, introduces in every angle of his a work of art, the most stately the marmoreal pulpit was realized by three artists, the hexagonal box

(n°1 - n°2 - n°3) decorated by beautiful sculptures in relief, she was performed in 1508 by Donato Benti, the pedestal from the famous Lawrence Stagi and the staircase, an unique piece of marble elegantly carved was realized in 1696 by Andrew Baratta, besides numerous paintings they are to signal two font to its inside (n°1 - n°2)

, a candelabrum and the statue of S.Giovanni Battista of Stagio Stagi 1522 and a font of Donato Benti (1508), that leans above a column realized by the Moisè in 1760
The characteristic bell tower, a bricks tower tall 36 meters unfortunately it is an incomplete work, realized between the XV and the XVI century, he was never dressed again of marble as it was anticipated in the initial project.
Other photos: Plinth cancels pulpit Inside Cathedral n°1 - n°2 Chapel Madonna of the Sun