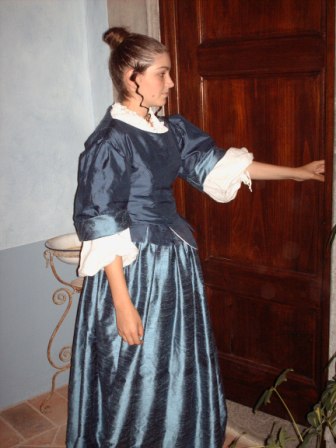 In the XVII century in Tuscany from the new world arrives " chocolate" the food of the gods…sublime food that in a very short times captures the courts of Florence and Lucca.
The workers of the Buonvisi, wanting to narrate and illustrate the story of chocolate and its use inside the noble Lucchesi families, propose an antique chocolate factory where they produce chocolate as in 1600's demonstrating antique recepies, including the famous "chocolate with jasmine" that was Cosimo III Dei Medici and the whole of Tuscany's favorite, and also shows how a noble woman of the Marchesi of Buonviso would offer it for tasting in her dinning rooms.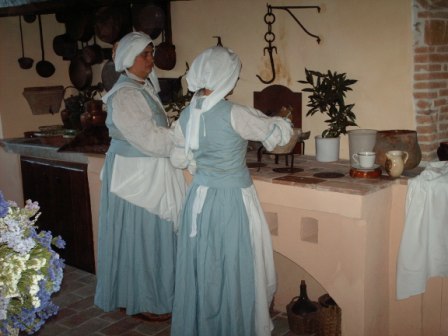 The multi epoch group of the workers of Buonvisi not only represent the art of making chocolate as was in that time, but also show the normal every day life of a noble family during feasts in the villas in that time period and organize buffets and weddings in the style of the first renaissance.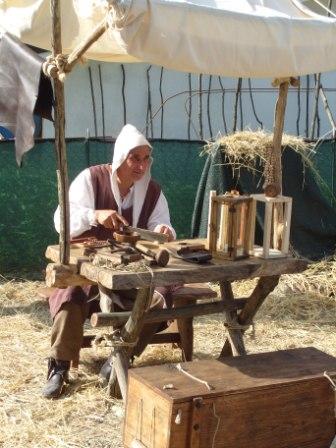 In this epoch we propose different times of medieval life, representing ancient works, also recreated with care in each detail, each of us has researched and documented on the work to recreate, in such way that its representation becomes explanatory and at the same time didactics, not only showing its job, but explaining the origins and the developments of it. Among the jobs that we represent we highlight the miniaturist that besides showing how the ancient miniatures were created also explain what they represented, the worker will tell the history of the writing in all of its forms between nibs and goose feathers, the Herb Wizard that healed and took care ot the people of the villages grasses, roots and berries, swapping the potions for common groceries or the normal towns woman who can, between grain and old seeds, illustrate how the cultivation and the uses of ancient plants, have held up the economy of our ancestors for centuries and finally the cloth merchant, that between silk and cloths, explains the old methods of measurement and exchanges.
The group with regards to this period, can develop lessons for a scholastic level, can organize banquets, suppers, parties and wedding in medieval style