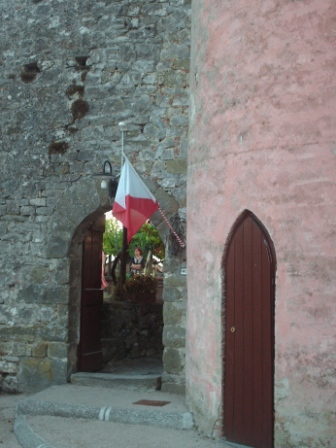 T
he country of Coreglia, was anciently defended by a small "Castrum", protected from other castles scattered in the near places, among which the castle of "Ansucu", situated to little distance by the country, place today call "Palazzetto", where the Ronaldinghi (noble Longobards) they also possessed a small deprived church.
The primitive castle of Coreglia, built around the church of S.Michele it was formed from a fortress defended from a tower (the bell tower of S.Michele) united with some strong boundaries to a series of ramparts, with the burst of the town wars and the destruction of the castle of "Ansucu" happened around the XII century, the fortification resulted inadequate forcing its Lords the Ronaldinghi to build a new fortress (XIII sec.) in the point more aloft of the colas, imposing fortification that in the following centuries it will be theater of hard battles.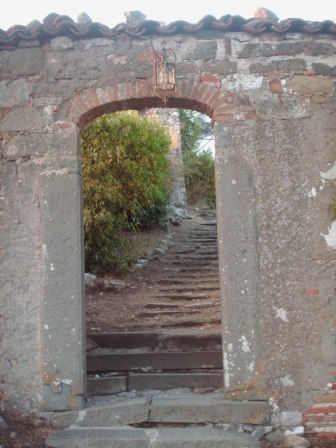 With the realization of the second fortress the physiognomy of the castle changed radically, the first fortress was dismantled for making place to the new church of S.Michele (XII century) and its tower was also turned to bell tower, the new castle mainly developed him toward north (that line of country will also be said "Castle than Above" in direction of Door to Bridge,
while in the south side also said "Castle of Under" a little anymore in low of the primitive door of midday, he was opened a new door "Door to Piastri" to which was set "The Hospitale of S.Maria". Door to Piastri, the principal one brings today still of the visible castle, in the following centuries she was embellished in the external part by a fresco the Madonna of the Miracles (XVI sec.), mended by a roofing supported by a column (XV) and from two marmoreal capitals realized in different epoches (XII and XV sec.).
In the inclusive period between the XV and the XVII century, with the increase of the population and the following use of the fire weapons, the castle after a series of amplifications assumed the actual physiognomy, that we can define "triangular" with the three vertexes of the triangle defended from: The Fortress (to east, subsequently strengthened), The Bastion of the "Penna" (to west) and Door to Piastri (to midday) defended by the neighbor "Strong" (military construction perhaps of medieval origin used as bastion), weapons, were modified to "scarp" and in the new defensive system,they were drawn by precedents structures four Bastions, from the mightiest of these Bastions, that of the "Penna" built on the precipice of west, the soldiers of Lucca guarded the valley, above all to the beginning of 1600 when in Garfagnana the lucchesi fought for about twelve years the estensi and the castle of Coreglia he was used as fortitude of support, to the two fortitudes lucchesi (in first line) of Minucciano and Castiglione Garfagnana, with the end of the hostilities the castle of Coreglia, lost the strategic importance and with to spend some years he was definitely demilitarized